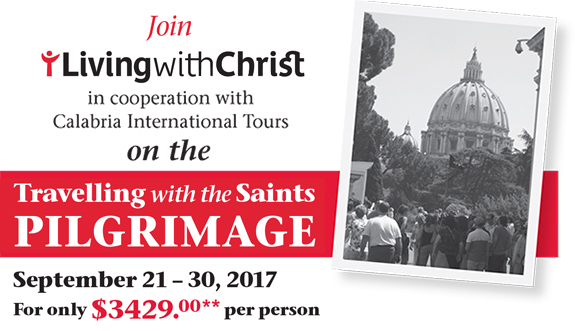 Follow in the Footsteps of the great Saints
Start with St.Paul and St Peter, St.John XXIII and St.John Paul II in Rome, St.Ignatius and more.
Attend Mass at St. Peter's and the Angelus with the Pope on Sept. 24
Learn about your faith through the history, art and beauty of the lives of the saints:
In Assisi, Siena, Florence, Desenzano, Padua and Venice. Renew and enrich your faith in body, soul and spirit as you experience the sacred places and the beauty, foods, sights and sounds of Italy.
We'd love to tell you more. Space is limited and will fill up quickly. Please contact us today for more information and complete itinerary:
Phone: 1-877-702-7773 Ext. 222 (toll free Canada US)
Email: This email address is being protected from spambots. You need JavaScript enabled to view it.
(**Based on 2 persons per room, includes ALL airport and city taxes.) This pilgrimage is sponsored by Living with Christ/Calabria International Tours. Travel arrangements by SanCal Travel – TICO Reg. No. 3179670 Phone: 289-371-2999